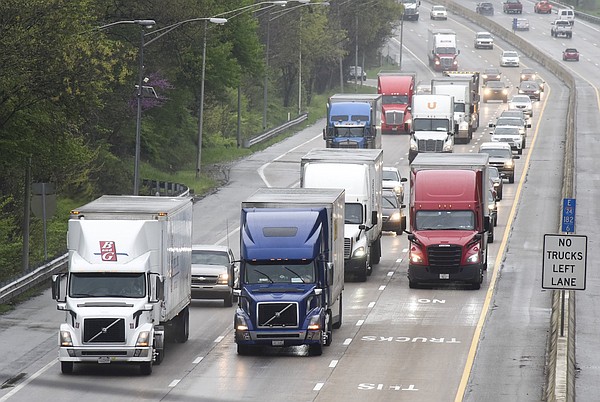 Chattanooga's freight alley has birthed another freight brokerage company, but its founders insist they are not just any ordinary freight broker.
"I have worked on the purchasing side of shipping as well as being a freight broker, and I think we come at this with an experience level and commitment to be more transparent and to work strategically in a way that best helps the customers," Danny Cotellese, the CEO of the newly launched Veritas International in Chattanooga, said in a telephone interview.
Cotellese, who previously worked for Steam Logistics, the Energy Transportation Group and Trident Transport, among others, said the new company is founded on the principles of honesty, respect and transparency. The name of the company, Veritas, is Latin for truth and underscores the focus of the new venture, Cotellese said.
"Veritas is a company founded on the principles and needs of the freight industry," Cotellese said. "Through a consultative approach, we have been able to achieve massive savings with compliance training and our own logistics experience."
Chattanooga is already home to nearly two dozen freight brokers and shipping companies that help arrange or make freight shipments across the country and for some around the globe. The Inc. 5000 list of America's fastest-growing companies in 2022 included 11 logistics companies in Chattanooga.
The leadership team of Veritas International comes from many of those companies, but Cotellese said his goal isn't simply to grow as fast as possible to make the Inc. 5000 list with his new company.
"Right now, we're focused on one customer at a time and putting our best foot forward for those customers to concentrate on and develop our growth naturally, not by forcing any growth simply for growth's sake," Cotellese said.
Veritas International is initially working in the manufacturing and wholesale trade markets bringing materials into the United States. The company has opened an office on 34th Street in Chattanooga and has 11 employees. The Veritas team has more than 70 years of combined experience in all aspects of freight management.
"Veritas recognizes that poor communication and a carousel of personnel are bad for shippers," Cotellese said in an announcement of the new company.
In addition to Cotellese as CEO, the company is headed by Monique Taylor, a former associate of Cotellese at Steam Logistics who is now president of international sales and operations for Veritas International, and Dustin "Hottub" Blevins, a three-year shipping industry veteran who is president of domestic sales and operations for the new company.
"The past two years have been hard on shippers, with the stress of delays and rising costs," Blevins said in a web post about his new job. "Building that much-needed trust with shippers and carriers alike is paramount to providing long-term relief for the woes that have faced this industry. Honoring commitments and being transparent about our operations were the reasons our CEO founded Veritas International."
Although international shipments have slowed in recent months as central banks around the world have raised interest rates to cool the economy, Taylor said Veritas looks forward to growing even in a slower market.
"This gives us plenty of opportunity to control our growth and really grow in a way to ensure we better serve our customers and our employees," she said in a telephone interview. "We're building really good overseas relations and we're not overly concerned about any slowdown at this point."
Cotellese said the slowdown in some shipping is causing companies to more carefully consider their options and gives Veritas International a chance to build its business with adequate access to shippers and containers.
Contact Dave Flessner at dflessner@timesfreepress.com or 423-757-6340.