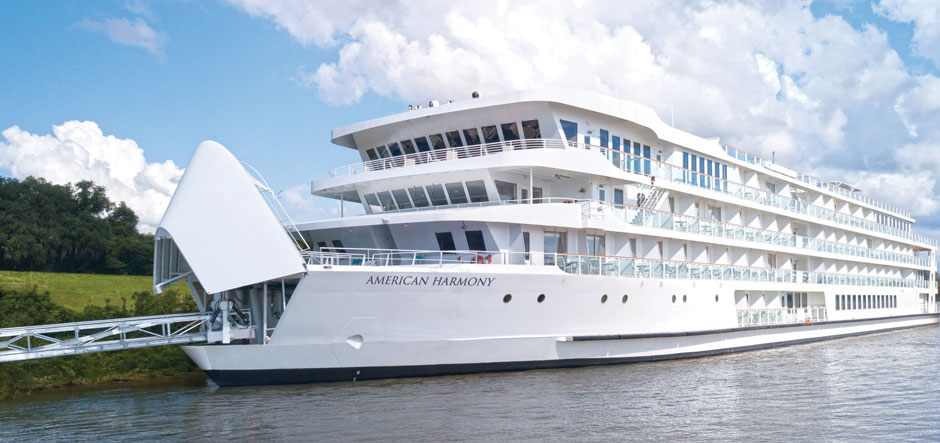 Sustainability is a complex concept made more difficult to simplify by the absence of a globally consistent definition.  
The three most commonly referenced pillars perhaps provide the easiest framework for the passenger shipping industry to develop their strategies and initiatives. They include social, environmental and economic sustainability – or people, planet and profit. Our focus in this feature, and in Cruise & Ferry's forthcoming Sustainable Maritime Interiors report, is the environmental pillar. 
Meaningful environmental progress is oftentimes frustrated by barriers associated with the other two pillars, not least the economics of finding alternatives for the products and practices that are currently damaging the environment. This is particularly apparent in the ship construction and interior outfitting stages, where there is much work to do in the quest to find less environmentally impactful building products and processes. 
Improving energy efficiency and reducing emissions are key priorities for the passenger shipping industry and it continues to make rapid progress with these goals thanks to a clear legislative agenda, the financial muscle of major global corporations and new technologies that are making clean fuel a realistic ambition.  
Dialogue is happening about other environmental topics too, but discernible action is harder to follow – including in the construction of interior spaces. Yet when you start to dig a little deeper, a hitherto little-reported underground wave of activity is revealed. It is high time that this unheralded proactivity is celebrated, even if only within our industry. The supplier community needs to know that the landscape is changing to motivate it to invest in developing more sustainable products and services for this market, even though it can be more challenging than for other sectors due to the added burden of International Maritime Organization (IMO) regulatory requirements. 
Cruise and ferry companies have already proven their willingness to embrace innovation and deploy improvement solutions and it is clear that this commitment also extends to their interior design teams for both newbuild and refurbishment projects.  
Sustainable procurement 
Passenger shipping operators around the world are updating their procurement policies to ensure they prioritise more sustainable interior products.  
Quark Expeditions, for example, is developing a sustainable sourcing policy that intends to shift its spending towards products that are "more environmentally sound, and socially and ethically beneficial". Likewise, Attica Group has also recognised that "raw materials are not inexhaustible, but finite", and so it has prioritised the efficient use of natural resources by implementing programmes to monitor how materials are used, reused, recycled and disposed. 
MSC Cruises is taking a robust approach across all areas of procurement, telling CFI that "managing environmental, social and ethical issues in the supply chain is critical". Scandlines also considers procurement as "much more than cost", noting that sustainability, safety, quality and innovation are key selection criteria for every ferry tender it runs.  
Hong Kong Ferry is similarly thorough during the supplier engagement and tender process. "Our evaluation criteria include product and service quality, safety performance, operational needs and price to ensure business partners share our dedication to environmentally and socially responsible practices," says a spokesperson for the company.  
Several organisations aim to form partnerships with others who can help them to improve procurement processes. NYC Ferry, for instance, is actively seeking "opportunities to innovate and partner with stakeholders that support its commitment to the environment", as well as collaborations with vendors that have green procurement and packaging policies themselves. Norwegian Cruise Line has also committed to "working with diverse partners across the supply chain to source safe, high quality, ethically responsible and sustainable products for guests". 
UK-based ferry operator Condor Ferries, which already purchases products and services that "do the least possible damage to the environment" is actively encouraging others to do the same in the hope that it will drive industry-wide improvements. 
Sustainable products 
There are countless examples of the industry's appetite for purchasing more sustainable products and systems. For example, Wasaline proactively seeks out environmentally friendly materials for its Baltic Sea ferries, while New York City-based cruise provider Hornblower has chosen carpets containing Everest Fibers made from post-consumer recycled material that is also recyclable. In addition, TUI Cruises prioritises the use of sustainable materials, like wood from responsibly managed forests, for newbuilds.  
Some operators are ensuring that the items used by passengers are eco-friendly where possible. Elixir Boutique Cruises only uses eco-friendly hotel amenities that come in green packaging and Hapag-Lloyd Cruises has ensured that all the bed linen and towelling items onboard its new expedition ships is certified according to the Global Organic Textile Standard. Meanwhile, Viking Line prioritises dishware made of sustainable materials – such as porcelain, glass and melamine – and all takeaway cups for hot beverages have the Nordic Swan ecolabel or have Programme for the Endorsement of Forest Certification. Attica Group uses biodegradable tableware across the vessels in its Superfast Ferries, Blue Star Ferries fleet and Hellenic Seaways fleets, and also promotes the circular economy by making furnishings for the terraces on its vessels. In addition, it has partnered with Ecoembes to ensure that all plastic packaging is recycled at its facility in Barcelona, Spain.  
Other passenger shipping brands are investing in equipment and products that will help to reduce their overall onboard energy and water consumption. American Cruise Lines uses low-energy LED lighting and EPA Energy Star-rated equipment, Royal Caribbean Group has implemented energy-efficient glass, and Cunard is installing energy-efficient advanced air quality systems across its fleet. In Germany, TT-Line has equipped passenger cabins onboard its ferries with an energy-saving unit that interrupts the power circuit for lights and switches the heating into eco-mode if the room is unoccupied. And Virgin Voyages is ensuring smart water use by equipping its ships with low-flow water fixtures, water-efficient dishwashers and laundry equipment, and vacuum toilets. 
Accelerating the pace of change 
When a good idea is proven onboard one or two ships the rate of adoption across the industry is staggeringly quick. LED lighting, low-flow water taps, energy-efficient glass, Energy Star-rated appliances, refillable toiletries and many other examples are now commonplace across the industry.  
"Living green has become a way of life, and the new norm and the marine industry should be the leader of this race," says Captain George Koumpenas, chief operations officer at Celestyal Cruises. 
My Nguyen, director of design and interior asset management at Holland America Group, agrees that environmental considerations must always be top of mind for any passenger ship project. She says: "Sustainability should not just be a commitment; it should also be a mindset that influences our daily decisions in everything we do – from operations to interior design." 
Thankfully, many operators have already made that commitment and are eager to embrace new sustainable innovations as they become available to help them achieve their environmental goals. 
"Sustainability has always been a cornerstone of our business at Norwegian Cruise Line, and it will remain a key pillar as we look to amplify and innovate our practices and offering over the next few years," says Gary Anslow, senior director of sales for UK & Ireland at the company.  
Carnival Corporation is already making great strides in improving its environmental credentials. "We are investing heavily across our fleet in new ship designs and capabilities, green technology and better procedures and protocols to help protect the global environment," says Roger Frizzell, senior vice president and chief communications officer at Carnival Corporation.  
Hurtigruten Expeditions is keen to continue investing in green products for use onboard its ships. "We are always looking for more sustainable or natural material, including upcycled options – and it does not start or stop there," says Thomas Westergaard, vice president of hotel operations. 
The story is the same for Scotland's Pentland Ferries. "We are committed to environmental efficiencies and using sustainable materials wherever possible across our entire operation," says Kathryn Scollie, director of Pentland Ferries. 
Meanwhile, Variety Cruises aims to continually enhance its practices until it has created a fleet of green ships. "Our passionate team of sustainability-driven individuals continue to strive towards more sustainable design so we can turn our fleet into a true eco-fleet through a phased programme," says Constantine Venetopoulos, director of Variety Cruises. 
Steve Born, chief marketing officer for Avalon Waterways and the Globus family of brands, also predicts that "future ship design will play a major role as we look to new and innovative ways to lessen environmental impact, including options for electric power sources and sustainable fuels." 
Challenges ahead 
Despite the positive impact of advances made in the delivery and operation of more sustainable interiors there remains much to do.  
Designers currently have insufficient choice and variety in sustainable product and material ranges, and even where there is a reasonable selection, they are limited by other barriers, such as the lower colour intensity that can be achieved with natural dyes. This will change when sustainable suppliers are increasingly rewarded with good sales volumes. 
Identifying truly sustainable products can also be challenging. Proud claims and shiny ecolabels can mask the true environmental cost and specifiers find it difficult to validate eco-metrics. There are over 450 ecolabels in use, many of which can be achieved without making any environmental improvements. This problem could be overcome if the industry identified and adopted a limited selection of recognised certifications. 
As the old adage goes, time costs money. And it takes a great deal of time to wade through the process of seeking out comparable alternatives to less environmentally friendly products. There are two obvious solutions here – either give designers the budget to fund this time or build a global catalogue of sustainable products that are IMO-certified or otherwise qualified for a life at sea. 
The world continues to deplete precious raw materials at an astonishing pace. And the environmental cost of digging them out of the ground and turning them into products for our pleasure is immense. While we cannot completely solve this dichotomy, the development and deployment of biomaterials like grape waste, silica fire coatings, bioplastics and aerogels will have a profound impact. 
Waste is likely the biggest and most pressing challenge of all. Every construction and consumption-centred industry fears it and toils to reduce it, or in some cases just hide it. While passenger shipping is open about this challenge, it remains a major obstacle to significant environmental improvement. Part of the solution lies in the greater adoption of life cycle strategies and another part through working with yards and governments to find ways to make it easier to reuse materials coming off ships during refurbishment projects. 
And there are many more, but we must not dedicate all of our energies to solving the big challenges, baby steps are important too. Finding a way to incorporate an extra one per cent of recycled material into a new carpet, adding a day to the life of a chair or reducing a fraction of the necessary chemical content in adhesives are all valuable advances. These and other small steps might not get loudly praised by the public, but they will be crucial to saving the planet.  
Sustainable Maritime Interiors  
Building and maintaining sustainable passenger ship interiors is a complex challenge, but key stakeholders across the industry are working hard to develop innovative new products and services to develop greener vessels. 
Cruise & Ferry's forthcoming Sustainable Maritime Interiors report will explore this topic, sharing exclusive insights from more than 180 contributors across all interior disciplines to highlight how the sector is working together to accelerate the pace of environmental change in the years ahead. We hear from executives at cruise and ferry brands, designers, outfitters, representatives from the supplier community and many others. 
The report will be released at the sustainability conference session at Cruise Ship Interiors Expo in Miami, Florida, in June 2022. Readers can also download a digital version at: www.cruiseandferry.net/digital/magazine/sustainable-maritime-interiors-2022 
This article was first published in the 2022 issue of Cruise & Ferry Itinerary Planning. All information was correct at the time of printing, but may since have changed. 
Subscribe to Cruise & Ferry Itinerary Planning for FREE here to get the next issue delivered directly to your inbox or your door.
Share this story