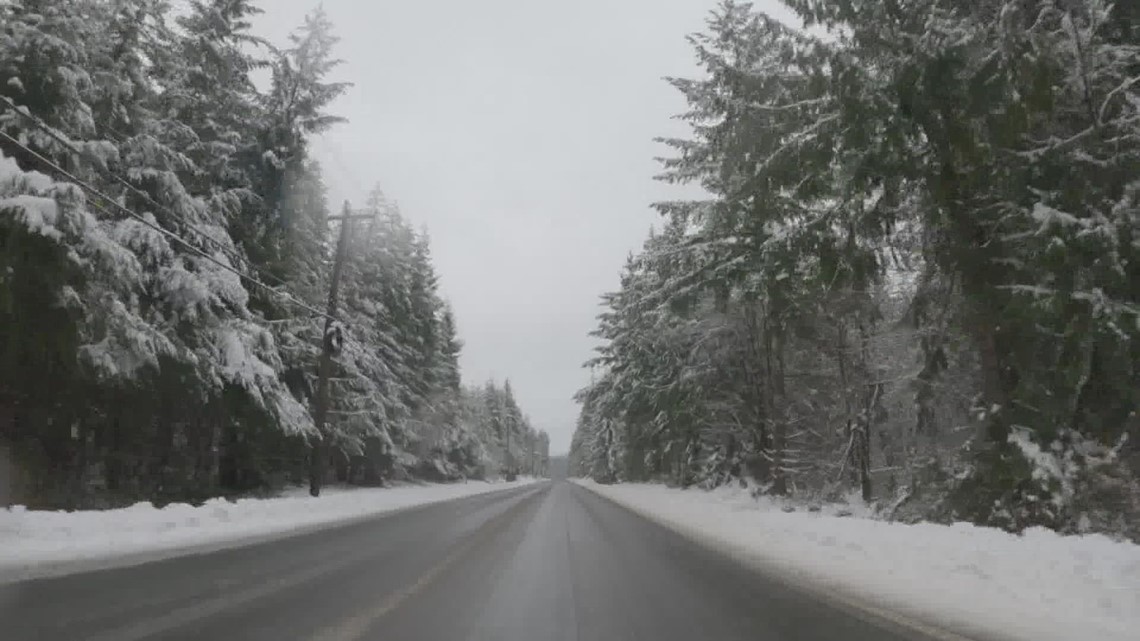 Nearly one foot of snow has already accumulated in parts of Kitsap County and more could be on the way Saturday morning.
SEABECK, Wash. — A new weather system could add to the nearly one foot of snow that has already accumulated in parts of Kitsap County. 
Residents of Seabeck told KING 5 that the early winter snow is creating challenges for business owners who are trying to get both themselves—and their product—into their shops.
Turie's Seabeck Espresso, a coffee shop on the marina, appeared to be closed Friday afternoon. A regular said he believes it has to do with the owner's snow-related mobility challenges.
"The coffee shop's been closed because she lives in a spot that's hard to get out of," said Rob Showman who frequents the café.
But even for potential customers who may wish to replace a hot cup of coffee with a hot slice of pizza next door, it might be easier said than done in such snowy conditions.
KING 5 caught up with the man inside the neighboring pizza shop, Seabeck Pizza.
"As soon as we get bad roads, business slows quite a bit," said Steven Averill, who makes pizzas for customers.
He said he is hopeful that people still find a way to come by for a pie.
"It's a good time to eat pizza," said Averill. "Our alfredo pizza's a really good one for the winter too."
That is, when they have the inventory for it. Some ingredients for an alfredo pizza are currently out-of-stock, he said.
"We're out of our alfredo sauce, our chicken," he said. "There's been some supply chain issues. Like, I know the boss didn't want to order anything this week for concern with how the roads might be."
The roads are particularly slippery where snow accumulation levels are higher, geographically located in the higher elevations of Seabeck.
"Deeper into Seabeck we're getting about a foot of snow in places. Like the first night, we had 10 inches of snow in that area, which is pretty good for this year," Averill said
The early timing of this snow has Seabeck residents remaining cautious about what lies ahead.
"You've got nothing but hills and bumpy roads to get out? Then it's gonna be a little bit tricky," said Showman.
"It's definitely gonna be a bit of a doozy this year I think," said Averill. "We get a little busier as we get into the weekend, so hopefully the snow doesn't cause too much trouble for the business as we get into Saturday and Sunday."
Seabeck and surrounding areas in Kitsap County can expect to see up to six inches of snow by Saturday morning.